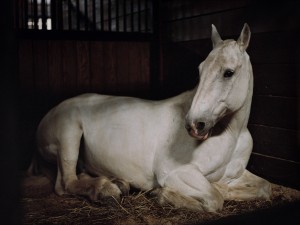 Anima Charlotte Dumas
Corcoran Gallery of Art
July 14 through October 28, 2012
Dumas' work will be presented in the museum's contemporary galleries, as the latest
installment of NOW at the Corcoran, a series presenting new projects by emerging and
mid-career artists. The exhibition will include three recent bodies of work that exemplify
her disparate approaches to portraying the animal kingdom. Reverie (2006) depicts grey
wolves, alone and in packs, in forested nature preserves in Sweden, Norway, and the
United States. Palermo 7 (2006) is a series of close-up portraits showing racehorses, their
heads tethered in place, in their hippodrome stalls in Italy and France. Heart Shaped Hole
(2008) depicts stray dogs, adapting in different ways to the privation they experience on
the streets of Palermo.
Dumas' latest body of work—which originates in Washington—will be on view
in the Corcoran's Rotunda. During two recent visits to the city, Dumas has photographed
the funerary horses of Arlington National Cemetery.
As with much portraiture, Dumas' photographs are intended to provoke a kind of
interaction, one that is focused and intense, between her viewers and her subjects. Her
goal is to engender a visual relationship, so that the portrait makes us more conscious of
how we look at animals in our everyday lives. Ultimately, she hopes, our view of these
animals' circumstances will provoke us to examine our own role in their stories. "The
bond between mankind and animals, and the extensive history that it accompanies, is my
great interest," says Dumas. "How we tend to use and regard animals for our own
purposes, both literally and symbolically; and the characteristics that we like to take to
heart from them, and the ones we attribute to them."